At Ritz Dance Studios, we do dance differently. We are all about your growth in and outside of dance. Moved by our mission to inspire a love for dance and a passion for life, we focus on education through dance - developing every dancer's creativity, confidence, critical thinking and character through dance. Our passionate and professional dance educators meet every dancer where they are.
From the nurturing and positive language we use with our tiny preschoolers; to engaging the young dancers with props and games; to pushing our teen and adult dancers with challenging dance routines.
We constantly strive to challenge, engage and nurture through small-sized classes in Ballet, Jazz, Musical Theatre, Hip Hop, Kpop, Street Jazz and Parent & Child Dance, leading to better teacher-student interaction and better all-round progression. "Happy" "Professional" "Positive" "Passionate" "Fun" "Nurturing" are what most of our dancers and their parents say about our studio. Come and experience the Ritz Dance Difference for yourself.
Check us out at these 2 convenient locations:
- East Branch: Ritz Dance @ Marine Parade
#06-01, 1 Marine Parade Central, Parkway Centre, Singapore 449408
WhatsApp: 8687 4100
Getting to Ritz Dance @ Marine Parade
- West Branch: Ritz Dance @ Bukit Batok
#02-332, 371 Bukit Batok St 31, Singapore 650371 WhatsApp: 8687 4146
Getting to Ritz Dance @ Bukit Batok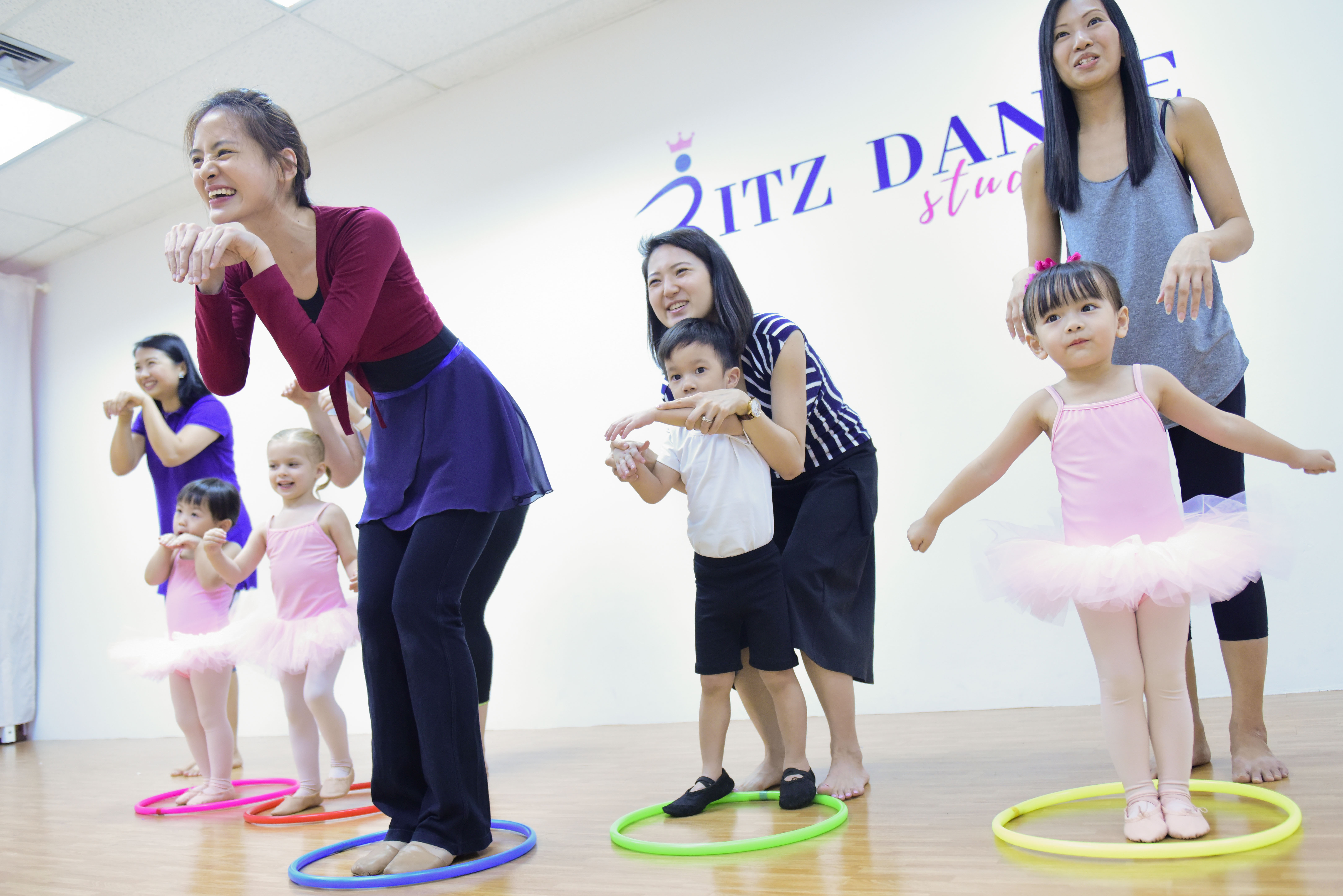 Our Principal's years of experience as a dance educator and working with young children and adults fuel her conviction that dance is not merely a form of self-expression and physical exercise. It is a platform for whole brain and body development.
Personally witnessing transformational progress in students – introverted students grow from being shy to confident dancers willing to take the lead; new students progress from having separation anxieties on their first lesson to looking forward to dance class every week; children with autism and special needs bursting with excitement and breaking out in huge grins when it was time for music and movement; the deep connection between parent and baby when they gaze at each other during infant massage – our Principal is convinced that dance goes beyond imparting movement and technique. It is an opportunity for holistic development – to develop creativity, confidence, critical thinking and character.
At Ritz Dance, we believe dancers should be challenged, motivated and inspired. Our holistic dance programmes will develop each individual through examinations and opportunities to perform such as:
Neurological research-based Creative Movement Dance curriculum
Rigorous dance training in Ballet, Jazz, Musical Theatre, Hip Hop, K Pop
Formal accreditation and examinations from the internationally-recognised Royal Academy of Dance (RAD, UK) Ballet and
Commonwealth Society of Teachers of Dancing (CSTD, Australia) Jazz and Hip Hop syllabi
Recital and Performance opportunities
Direct School Admission (DSA) Trainings
Dance Competitions
Unique school holiday programmes and enrichment camps.
Our Faculty
Ritz Dance Studios dance educators are professional and highly qualified. With years of dancing, performing and teaching dance, every dancer who walks through our doors can be assured to receive premium dance education and rigorous training, through engaging and enjoyable classes. Our dance educators are committed to every dancer's success. Our goal is to nurture versatile dancers who think critically and creatively at every dance class.